---
WELCOME TO ADS EARN LITECOIN
BELOW YOU WILL FIND A SECLECTION OF SHORT HELP VIDEOS TO GET YOU STARTED
Please take a little time to watch them before sending a support ticket
---
---
A FEW POINTERS TO GET YOU STARTED
You can fund your account with LTC, BTC, TRX or ETH

DO you need a Litecoin Wallet? Here is a great free wallet to download

(

https://www.exodus.io

)

You can get started with 0.01 LTC for advertising

You earn rewards by sharing your referral link

Your Withdrawals are Litecoin ONLY

Promotional Material Available (Banners, Emails)

You will get more advertising and rewards the more you share your affiliate link.
You can also "PIF" people in and add them to your team from our PIF POOL!
That's a great feature that people love.
Your goal is to advance through the stages as you build your team.
Take note of the rewards plan that compensates each stage as you grow.
---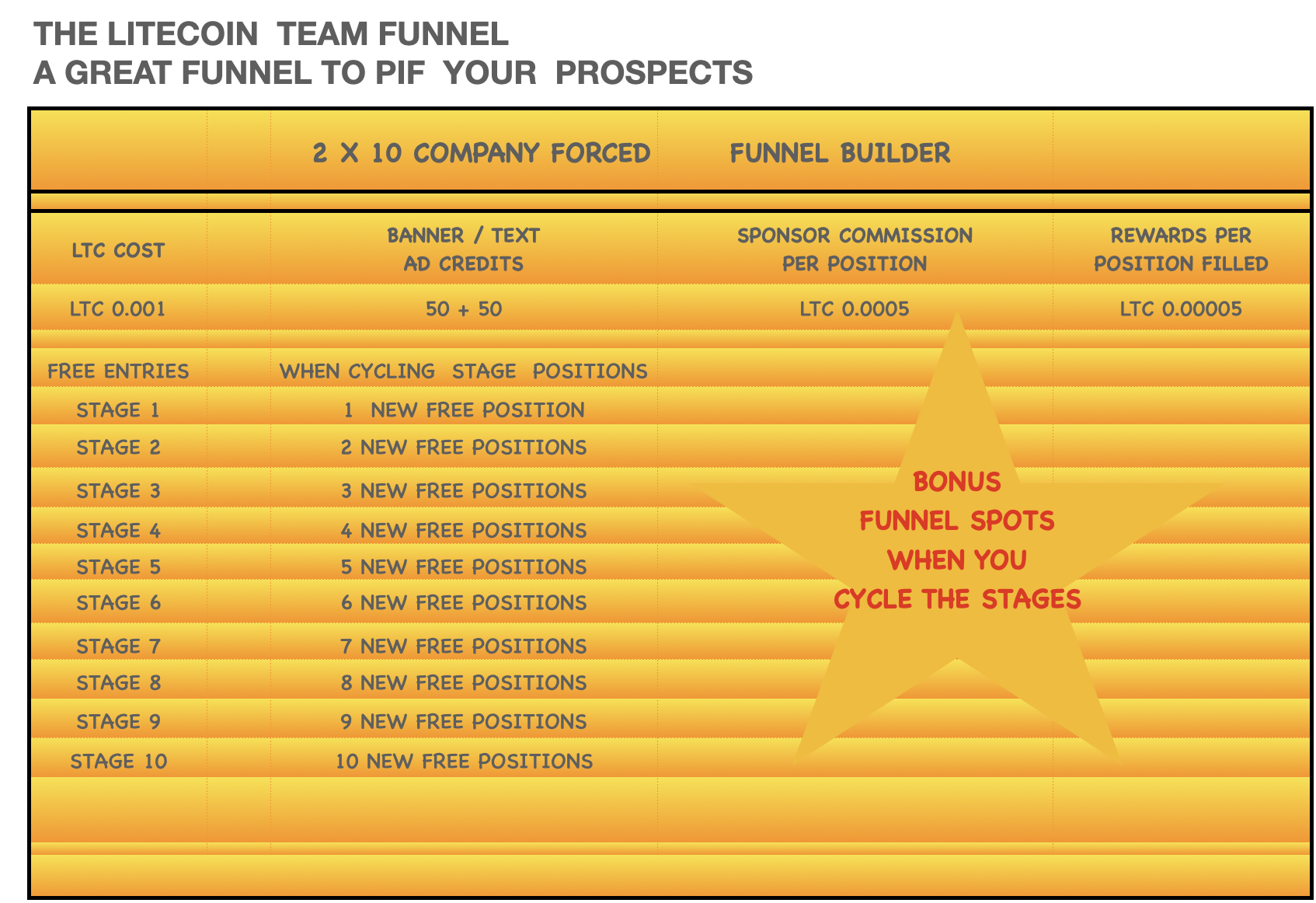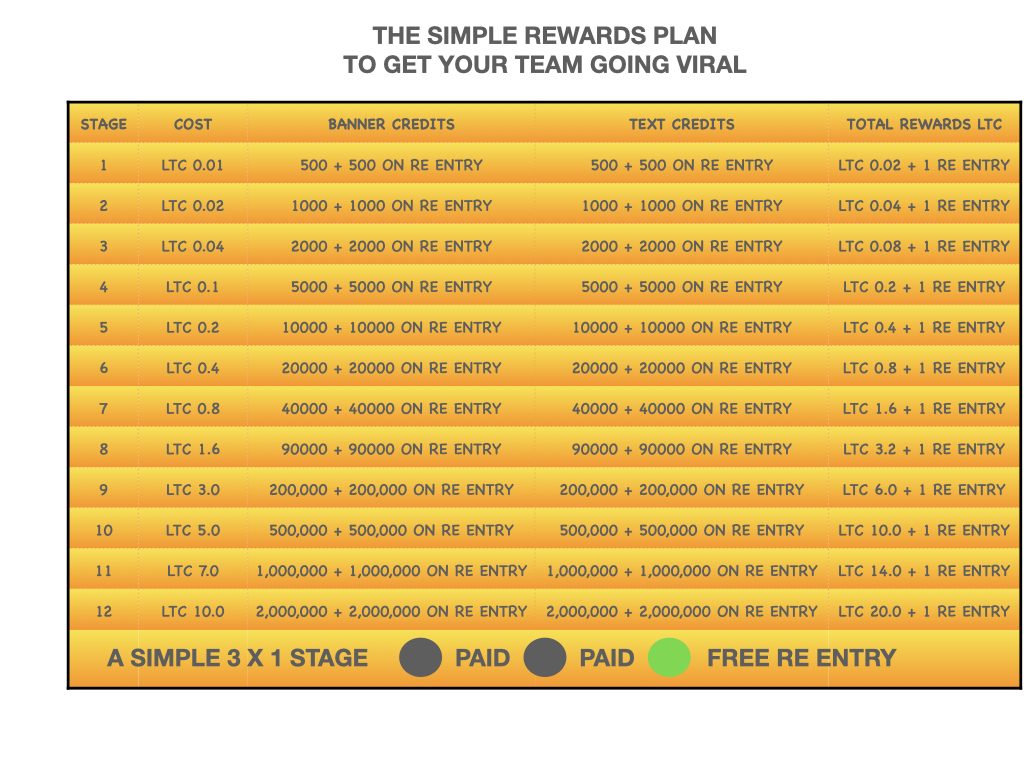 Another exciting feature is that you get a Free Re-Entry when you fill your "stage" with 3 team members.
You only have to pay for your first entry into each stage level ONE time.
That means you can re-enter all the stages multiple times.
This is a very unique feature and you will love getting the emails that "congratulate" you for your work and restart that stage again.
As you can see from the chart above, this can be a very nice rewards/compensation for you.
As will all the other Ads Earn Network programs you can advertise your programs, offers and services using our text ads, banner ads and login ads.
We have made this super-simple for you and give you a free funnel builder for the Ads Earn Network.
Check it out in your members area for a free join link. ( Under your sponsors details )
If you have questions, check out the Facebook Group, FAQ's and Help Videos.
This is an easy site to use and you will love the advertising and rewards.
Your job… Share It!
IMPORTANT! Work with your team members and make sure you stay ahead of your team in the stages so you don't miss getting payments!
Encourage your team members to make sure they pay for their first stage (at least) so that they do not go into the PIF POOL in 7 days!
Check in with your own sponsor and make sure they know you are upgrading, especially if you are going to pass them up in a stage.
Team work is a must and it only makes sense to help one another so that you get those pass-ups too!
Look forward to seeing you in the Facebook Group.
---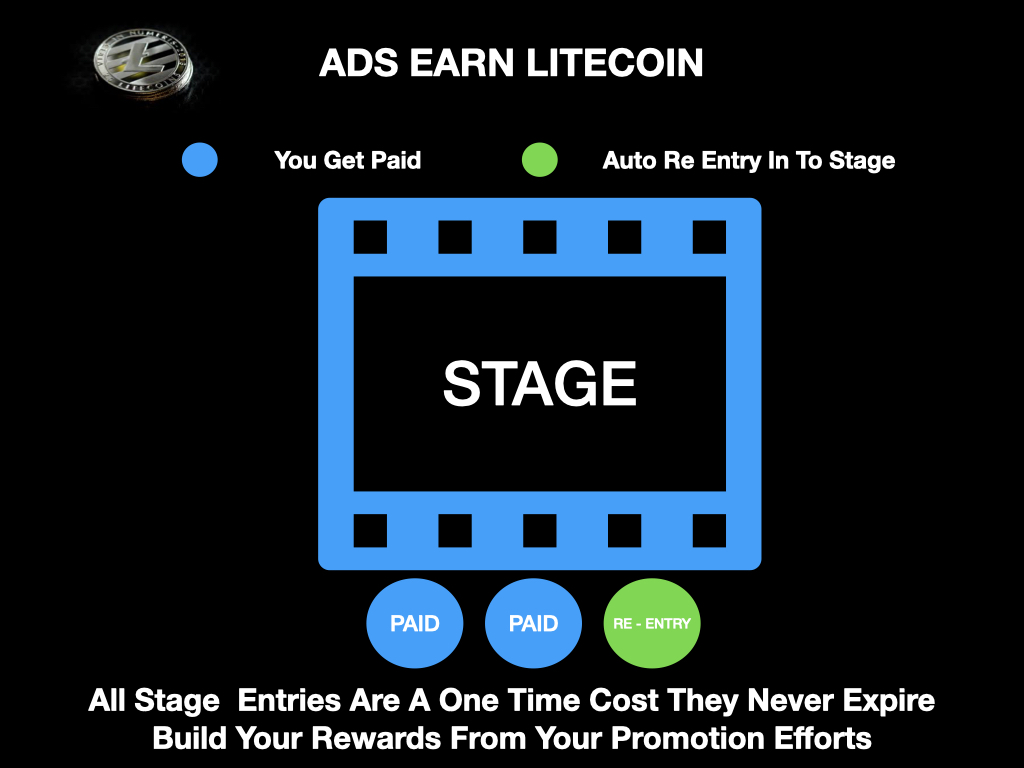 ---
HELP VIDEOS TO GET YOU STARTED
Please take a little time to watch them before sending a support ticket
---
YOUR PROFILE SETTINGS
---
---
---
DEPOSIT & WITHDRAW LITECOIN
( funding available with btc eth ltc )
---
---
---
HELP & SUPPORT
---
---
---
PURCHASING YOUR STAGES
---
---
---
LOADING A BANNER ADVERTISEMENT
---
---
---
TEXT & LOG IN ADVERTISEMENT
---
---
---
USING PROMOTION MATERIAL
---
---
---
STATS POSITIONS & DOWNLINES
---
---